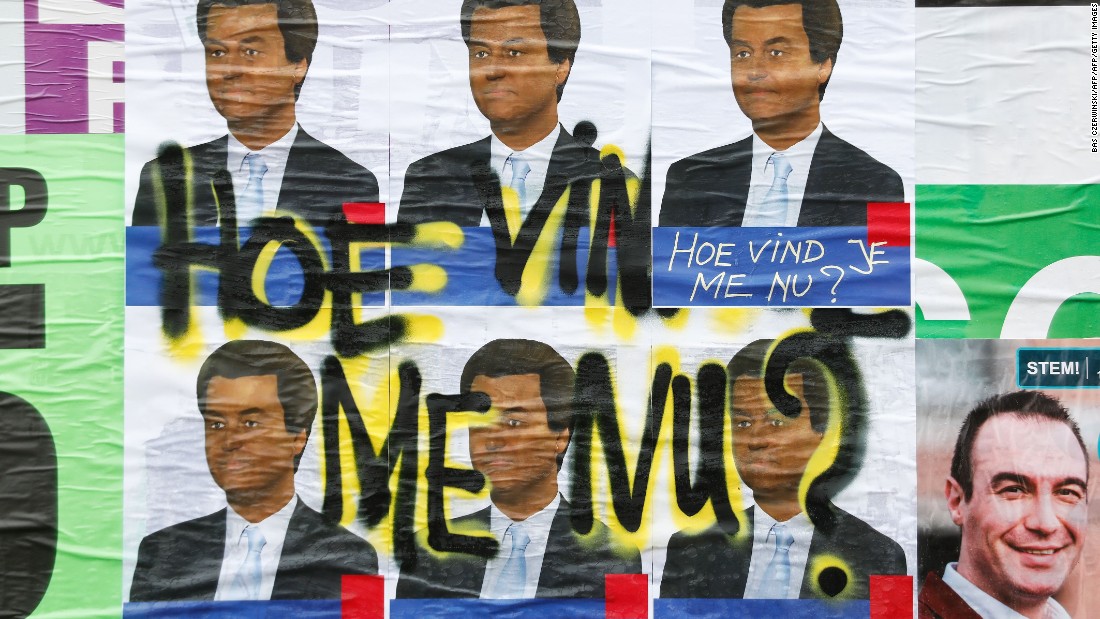 (CNN)Europe's populist movements have already made their mark on the European political landscape after a series of closely-watched elections held across the continent.
Emboldened by the UK's decision to leave the EU and by US President Donald Trump's anti-establishment victory, far-right, nationalist and euroskeptic parties now continue to vie for power in France and Germany.
Here's a look at how — and why — some of Europe's populist parties have swept into mainstream politics.
France
France will hold its first round of general elections on April 23, with a runoff two weeks later on May 7 if no candidate gets more than 50% of the vote.
Le Pen, leader since 2011, has tried to "detoxify" the party founded by her father Jean-Marie of its reputation for racism and xenophobia — seeing its share of the vote rise to 27% in last year's regional elections.
Le Pen says her party can cure France's economic malaise; since the 2008 economic crisis, unemployment has risen from 7.1% to around 10%, while almost a quarter of the nation's youth is now out of work.
Economic growth in France, the eurozone's second-largest economy, slowed to just 0.2% of GDP at the end of 2016.
The National Front leader has employed similar tactics to US President Trump by tapping into the frustrations of the French electorate and focusing on a more nationalistic agenda to sway voters to her corner.
"What is at stake in this election … is whether France can still be a free nation," Le Pen told a crowd of thousands at a rally in Lyon. "The divide is not between the left and right anymore but between patriots and globalists!"
"Clearly French values are being attacked as are the values of other countries and I worry other countries will be affected in the future," she said.
But Le Pen is also under scrutiny after several members of her staff were accused by officials of being paid for non-existent jobs at the European Parliament.
An independent centrist candidate, Emmanuel Macron, is also in the running.
AfD contributed to defeats for Merkel's Christian Democratic Union in Berlin and her home state of Mecklenburg-Vorpommern during regional elections in 2016, as voters looked for a candidate who would appease their concerns aboutrising rents, increasing gentrification and refugees.
With national elections due in the autumn of 2017, it's unclear what the future holds for Merkel.
On March 15, Dutch voters cast their ballots in the first of the three European elections slated for 2017.
Hehad also promised a referendum on the Netherlands' membership of the European Union, following Britain's vote for Brexit in 2016.
Italy is well-known for its fluid political spectrum, having seen a number of populist parties come and go over the years.
He had promised the reforms would help revive Italy's flagging economy, but voters used the opportunity to push him out, setting the scene for a general election expected later this year.
Experts say that if Grillo comes to power, he'll likely follow through on promises to call a referendum to scrap the euro, reintroduce the Italian lira, and perhaps even follow Britain out of the European Union.
Austria looked at electing the EU's first far-right head of state since the Second World War when it picked its next president on the same day as Italy's critical constitutional reforms ballot in December.
The far-right refugee-blocking candidate campaigned hard on the issue of migrants, calling for a complete end to immigration in a bid to preserve the country's "ethnic culture."
The migrant crisis reached a tipping point for many in 2015 when almost a million refugees crossed into Europe from the Balkans. At least 700,000 of them traveled via Austria.
The United Kingdom Independence Party (UKIP) enjoyed a surge of support at the 2015 general election under the leadership of Nigel Farage.
UKIP's share of the vote was 12.6% behind the traditionally dominant Conservative and Labour parties.
UKIP's personal record of 3,881,099 votes came at a time when immigration into the country was at its highest rate since the turn of the century.
Read more: http://www.cnn.com/2017/03/15/europe/populism-in-european-elections-visual-guide/index.html