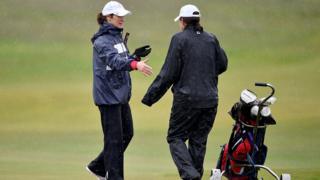 Muirfield golf club is set to announce the result of a vote on whether to admit female members.
A previous vote at the privately-owned links course fell short of the majority required to change membership policy.
Muirfield, which last hosted the Open Championship in 2013, was later told by golf's ruling body the R&A that it would no longer be considered as a host venue.
Club captain Henry Fairweather will announce the result at 11:30.
Motions require two-thirds of its eligible voters to back the move. Only 64% previously voted in favour.
Mr Fairweather has previously described the "disappointment" felt by many members at the result of the first vote.
He said: "A substantial majority of our members voted for change and many have voiced their disappointment with the ballot result and with subsequent events.
"The club committee believes that a clear and decisive vote in favour of admitting women as members is required to enable us to begin the task of restoring the reputation of the club that has been damaged by the earlier ballot outcome."
Read more: http://www.bbc.co.uk/news/uk-scotland-edinburgh-east-fife-39260578