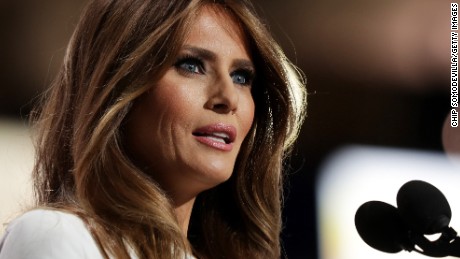 (CNN)Melania Trump announced Thursday that she took down her website, acknowledging that it contained inaccuracies.
"The website in question was created in 2012 and has been removed because it does not accurately reflect my current business and professional interests," she tweeted. She did not provide further comment or address specific inaccuracies.
Now, visitors to www.melaniatrump.com are redirected to www.trump.com, replete with pictures of the Republican presidential nominee's sprawling golf courses and five-star hotels.
The former model's website had claimed that she received an undergraduate degree in Slovenia. But a biography of the potential first lady's life, "Melania Trump: The Inside Story," asserted that Trump gave up schooling after just one year in order to focus on her burgeoning modeling career.
Internet archives from 2012 show that Trump's website, which featured her name in large and gleaming gold script against a black background, included the text: "After obtaining a degree in design and architecture at University in Slovenia, Melania was jetting between photo shoots in Paris and Milan, finally settling in New York in 1996."
Read more: http://www.cnn.com/2016/07/28/politics/melania-trump-website/index.html