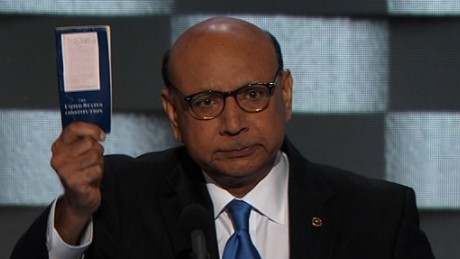 (CNN)The 2016 presidential campaign has not been easy on American Muslims.
"I've seen #KhizrKhan's speech a few times now," tweeted Wajahat Ali, a journalist and writer. "It takes a Desi Muslim uncle to remind America of its core values & freedoms," he added, using terms of endearment for older South Asian immigrants.
Ali later added that Khan's daughter in law said he's kept that copy of the Constitution in his coat pocket for as long as she's known him.
Even on a night when Hillary Clinton became the first woman to accept a major party's presidential nomination, Khan's short speech was the "best and most necessary" during either the Democratic or Republican national conventions,
wrote Catholic intellectual Andrew Sullivan
.
"When that father brought out his own copy of the Constitution and waved it at Donald Trump, it was the fulcrum of this election. This is what is at stake — the core values of this country under threat from a man who has no understanding of the Constitution he would swear to uphold."
But Khan's speech also elicited mixed emotions, some American Muslims said. Many are deeply skeptical of American militarism and ambivalent about parading their community's patriotism.
"I think it was an incredibly moving moment," said Zareena Grewal, a professor at Yale University and author of "Islam is a Foreign Country."
"Khizr and Ghazala Khan paid the ultimate price and moved the crowd and those of us at home with one of the simplest but most powerful testimonies at the DNC. I was touched by their love for their son and their country and their defiant conviction in American values."
At the same time, Grewal said she was troubled that anti-war chants were silenced at the convention, and she, like many American Muslims, opposed the Iraq war in which Khan's son died. Last September, four of Grewal's family members — all innocent civilians —
died in American-led airstrikes in Mosul, Iraq.
"I hope there is still room in the DNC for anti-war progressives such as myself. And I wonder if American Muslims who are anti-war pacifists can be seen as patriotic, or if we only want Muslims to be peaceful when they oppose terrorism, but not when they oppose violent U.S. foreign policies, including the hawkish policies Clinton too often supports," Grewal said.
Dilshad D. Ali, who as managing editor of the Muslim Channel at
Patheos.com
keeps close tabs on Muslim-American conversations, said this morning she's hearing continuing condemnation the Iraq and Afghanistan invasions, and mixed emotions about praising the Khan family for their son's service in a contentious war.
"But I'm also hearing a lot of support for Khan and his standing up to Trump. And a lot of sadness that Muslims are still having to prove they are 'good Americans.'"
Read more: http://www.cnn.com/2016/07/29/politics/muslims-moment-khan/index.html