Jordan Spieth thinks Dustin Johnson is the player to beat to win the Masters but he believes he is the man to do it if he takes his A game to Augusta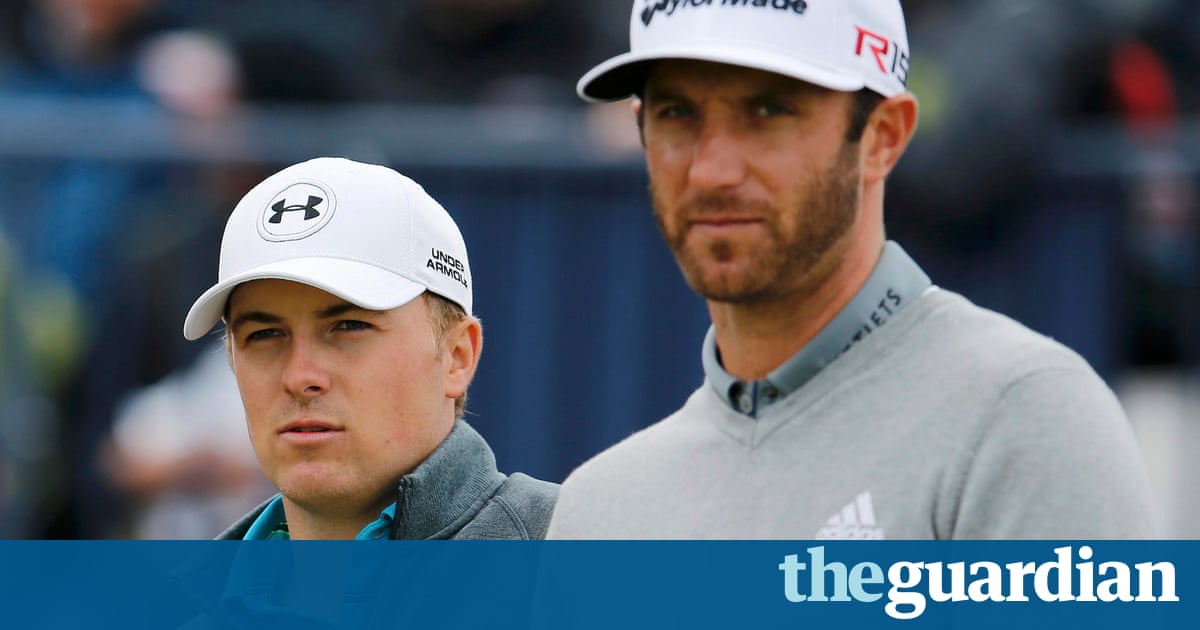 It is an indication of Dustin Johnsons current stranglehold on golf that even in his native Texas, with the Masters in such proximity, a Jordan Spieth media conference was dominated by discussion about the world No1. The mistake would be in believing Spieth is in any way taken aback by Johnsons prominence.
Johnsons success at the WGC Match Play on Sunday means he has secured three wins in as many starts and seven from 17. He is the short-priced favourite for the Masters next week despite a best Augusta finish of tied fourth. In three Masters appearances Spieth has not been worse than second.
I think Dustin Johnson is the guy to beat in golf no matter where you are, Spieth said before the Shell Houston Open, which begins on Thursday. Put him anywhere, I think just about anybody would agree with that. Hes the guy to beat. If I play my best golf, I believe that I can take down anybody, and you have to believe that. But I think that he is the guy that everyone is saying hes playing the best golf in the world right now.
A Spieth smile followed as he was asked about any element of shock attached to Johnsons stunning form. Not the slightest bit, the 23-year-old said. I believe you guys can all attest, I called this. I mentioned this going back years: Dustin Johnson is probably the most talented player and its a matter of time. Once he gets that click… It probably was the USOpen [last year], looking back on it now. He just got over that [major winning] hurdle. And whatever free-up he needed that we didnt need him to have, he got.
Im not trying to say I told you so but I definitely called this and I have been quoted as doing so. So Im not in the least bit surprised that he is the guy to beat. And its going to be very difficult at this point, considering he was No1 and hes won two World Golf Championships in two starts. Im pretty sure hes got a big ranking lead now.
Major championships have huge weight and Im not focused on trying to win majors to get to No1 any more. Its just trying to do it [the former]. So, that side of things, getting No1 isnt the pressure that I feel, but thats the only way to really take big strides towards him because I dont think hes letting up any time soon.
Johnson withdrew on Monday from this weeks event in order to be fully rested for Augusta. Spieths own preparations were slightly disrupted on Wednesday by the arrival of a Texas storm, which limited his pro-am outing to nine holes.
Thereafter Spieth was typically insightful on the basis on which he and the worlds other leading players can try to halt Johnsons run. Fortunately Ive played a lot of golf and competed against him on the weekends, the twotimes major winner said. Ive been successful against him, which is a huge advantage, just having done it before.
The way to do it is to not get caught up in his game. The thing thats difficult about beating Dustin Johnson is, you get on the tee and by the time youre hitting your second shot youre already at a disadvantage on the hole. Its trying not to feel that way and trying to recognise that you add them up at the end. Theres a lot of ways to do it.
If you feel like youre disadvantaged every hole, even though you are percentage-wise when you both hit a good tee shot, youre probably not going to have a chance to beat him. If you play your own game, having the advantage of having been there before, him knowing that, too; he knows which guys have taken him down and are capable of it and he knows which guys are probably not going to be able to. And fortunately I feel like, you know, I can.
Other live Masters hopes in the Houston field include Justin Rose, Henrik Stenson, Lee Westwood, Rickie Fowler and Adam Scott.
Read more: https://www.theguardian.com/sport/2017/mar/29/jordan-spieth-dustin-johnson-masters-houston-open